Like Colin, this is a bit of a favourite of mine. Partly due to the fact that it is one of the biggest and baddest hill races on the Scottish calendar and finishing it, within the cut-off times, without some body part exploding, losing your way or breaking down mid-Trahanna in cramp-induced tears, is a serious achievement.
My 4th round duel with the run saw me start well enough – keeping a comfortable pace on the road section until the short climb up over the initial steep field. I had invested in a pair of Hoka Challenger ATR 3s for the run – keeping in mind that these were road/trail shoes and they would suit the terrain – decent grip, broad footprint and 4 or 5 miles of the run being road or flat trail. On my initial trial of the shoes, they were a little tight on the right so I started out with loosened laces on that foot. Very comfortable shoe but no lateral 'give' - it would transpire.
I manage to keep steady rhythm up to the lower end of Orchard Rig and then, like those in front, knee-pump my way to the flatter section leading to the bottom of Birks Hill.
Heading up and over the steep climb to Birkscairn, my right foot is numbing up.
It improves on the downhill. It's a misty fumble on the run down to Glensax - but local knowledge helps and I drop out of the mist near to the 'grouse butt line'.
I have preloaded some floppy bottles with electrolyte power and drop one into the burn before heading up Glensax towards Hundleshope.
A decent ascent without stopping and I feel I am up on last years' time. The going is rough underfoot and my 'loose shoe strategy' begins to backfire.
Before the sharp turn up on to the pulverised, peaty trod across to Stob Law, I decide to tighten up my laces. This takes time to undo and refasten but they feel more secure. The downside to this is that my right foot is being compressed and I start to develop a pain between my 3rd and 4th toes. It turns out to be Morton's Neuroma type of thing – for interest...
Common for wearers of high heels apparently – honest – it was just the once!
I make my way across the trod to the yelps of other who fall foul of the mushy pitfalls. On the inside, I am grinning
Downhill from Stob Law to Glenrath and pain is jabbing until the flat farm section where it subsides a little. Up the firebreak to Whitelaw Hill and much of the same. Each upward step requires the use of the ball of the foot. Pain ensues. Interestingly, this is the first time I have ever overtaken a runner on the firebreak! He was looking a shade broken as I did so!
The long downhill and along the road to Stobo Home Farm is challenging. I am counted through at 79th here and decide it is time to hatch my masterplan. I had a packed a spare pair of 'wider' Inov8s – in the event that my chosen shoes underperformed. I stop to switch in to these – a crampy moment in doing so and also allowing 3 or 4 runners to pass – but the shoes are wider and I am off again, with hope of an improvement.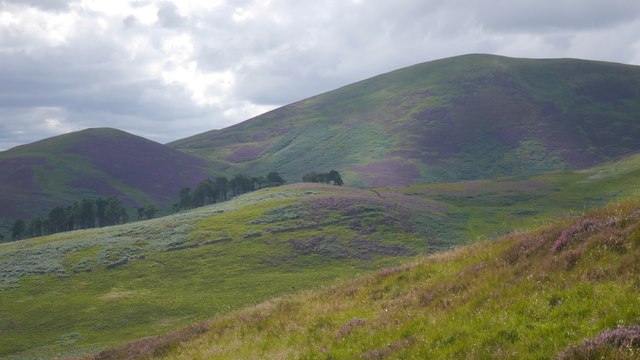 Trahenna with Louden Hill on the left - Copyright Richard Webb
Bad plan – the damage is done - so an onward hobblejog is employed and soon I am looking up the barrel of Trahenna Hill along with 6 other runners. I had reccied this twice the week before and was STILL uncertain on which route to take. With my foot, I could not consider the full frontal ascent so opted for a left hand tack on Louden Wood with a contour of Louden Hill. I also discovered that the track in the field beyond the wire fence is a pretty good option. I tackle this in rapid (ish) 50 step sections with a 10 second breather between each.
At last, the descent to Ratchill Farm. This is the most challenging section because, as my shoes grip the contour, my food slides inside my shoe creating a burning sensation. There is much grunting, and for all they greyness, the air is blue with mixed expletives that match my hobblejog cadence.
The road section to the finish is undertaken between a grimace and a smile – I know that soup, sandwich and ale will soon follow – easily pleased!
I wander back to the Village Hall and notice that 8 or 9 if the runners I parted with at the sheepfold along from Stobohope are still coming in – good line up Trahenna after all!
Colin (five ales) Williams and Andy (Podium placed King-of-the-Mountain and human carrot cake vacuum) Cox are relaxing over a brew when I arrived at the hall. They have both posted good times. We share stories and ales.
141 entered – 116 counted out – 100 counted in.
16 DNFs is approximately 14% of the total who started – perhaps testament to the brutal challenge this run poses.